Coconut Cloud is the dreamiest, freshest coconut yogurt you will ever taste, we promise! This rich, creamy and dairy free yogurt, packed with probiotics, is perfectly tart and finished with a hint of natural sweetness...
Coconut Cloud contains zero dairy, coagulants gums or additives and is plant-based.
3-4 servings per jar
Handmade in small batches in Toronto and only contains two ingredients:
🥥 Coconut
🥥 Vegan bacterial cultures: Probiotic strains include: lactobacillus acidophilus, bifidobacterium bifidum, bifidobacterium lactis, streptococcus thermophilus.
Made in Ontario, Canada
Enter code CCNOW at checkout to enjoy free local delivery when you buy 4 or more Coconut Cloud yogurts.
---
Probiotic Peanut Butter Banana Coconut Cloud Ice Cream
dairy free // gluten free
We promise everyone in your family will go coconuts for this sweet treat! It's dairy free, gluten free and features two of GG's nutri-essentials: Belly Behave and Coconut Cloud Yogurt.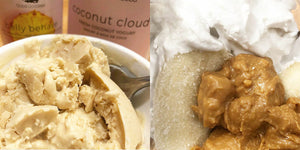 Ingredients
| | |
| --- | --- |
| 2 cups | Coconut Cloud Yogurt |
| 1 cup | Coconut Milk |
| 1 | Frozen Banana |
| 1 | Belly Behave Capsule |
| 1 tbsp | Crunchy Peanut Butter |
Preparations:
1. Add all ingredients with content of Belly Behave capsule in a blender and blend till smooth.
2. Pour soft serve into small bowls and place in freezer for up to 45 minutes.
3. Lightly stir each bowl every 15 minutes or until desired texture.
4. Snap a pic, share it with us @goodgoddessdaily and enjoy!!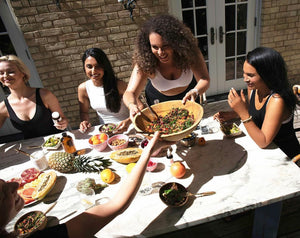 A Little About Us
Good Goddess offers an approachable, community-driven outlook on contemporary wellness.
All products we offer have been sourced from the best manufacturers, makers and farmers. They all have a function, a reason for being and tested by us.
A hybrid between nutritional health + clean beauty + a curated lifestyle, Good Goddess promises to get you glowing from the inside out.
Join the GG Community on Instagram!
---
More GG Must Haves
Complimentary Shipping on Orders over $95
---