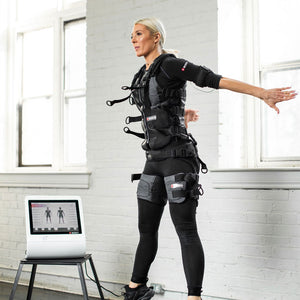 Gift of Supercharged Workout For Two
Regular price $175.00 Sale
Goddesses who work-out together slay together!
Suit up with your bestie or mom a supercharged training time. This EMS duo session will have you sweating for immediate results.
WHAT IS EMS TRAINING?
By using electric impulses, Electric Muscle Stimulation causes muscle contractions which targets the whole body or focuses on specific areas depending on your goals.
EMS stimulates up to 98% of the entire muscle whereas a traditional workout may only use 50%. One 20 minute workout is equivalent to 90 minutes at the gym with over 150 times more muscle contraction than your average workout.
30 minutes
includes one EMS session for two people, EMS underlayer for each person (value of $300)
training with: Dr. Jess Roeder, Registered Chiropractor and Acupuncturist
Service available at Good Goddess The Nest, Toronto.