#1 FAQ: Huh?/Who?/What is Good Goddess?
Good Goddess is a contemporary wellness company that offers nutrition-based products and services.
With an approachable, community-driven outlook on getting healthy, we focus on nutrition both on and off the plate.
And, did we mention we also make the cleanest, most delicious coconut yogurt on planet Earth?
A hybrid of food and beauty, Good Goddess promises to get you glowing from the inside out.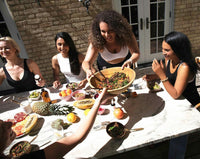 Try our GG Earseeds
BLING WITH BENEFITS!
EARSEEDS are small jewels that provide acupressure to points on the ear treating a variety of conditions of the body and mind.
Heal me